Vik Muniz
December 2019 – 8 March 2020
Vik Muniz is distinguished as one of the most innovative and creative artists of our time. Endlessly playful and inventive in his approach, Muniz harnesses a remarkable virtuosity in creating his renowned "photographic delusions". Working with a dizzying array of unconventional materials including sugar, tomato sauce, diamonds, magazine clippings, chocolate syrup, dust, and junk Muniz painstakingly builds tableaux before recording them with his camera. From a distance the subject of each resulting photograph is discernible; up close, the work reveals a complex and surprising matrix through which it is assembled. That revelatory moment when one thing transforms into another is of deep interest to the artist.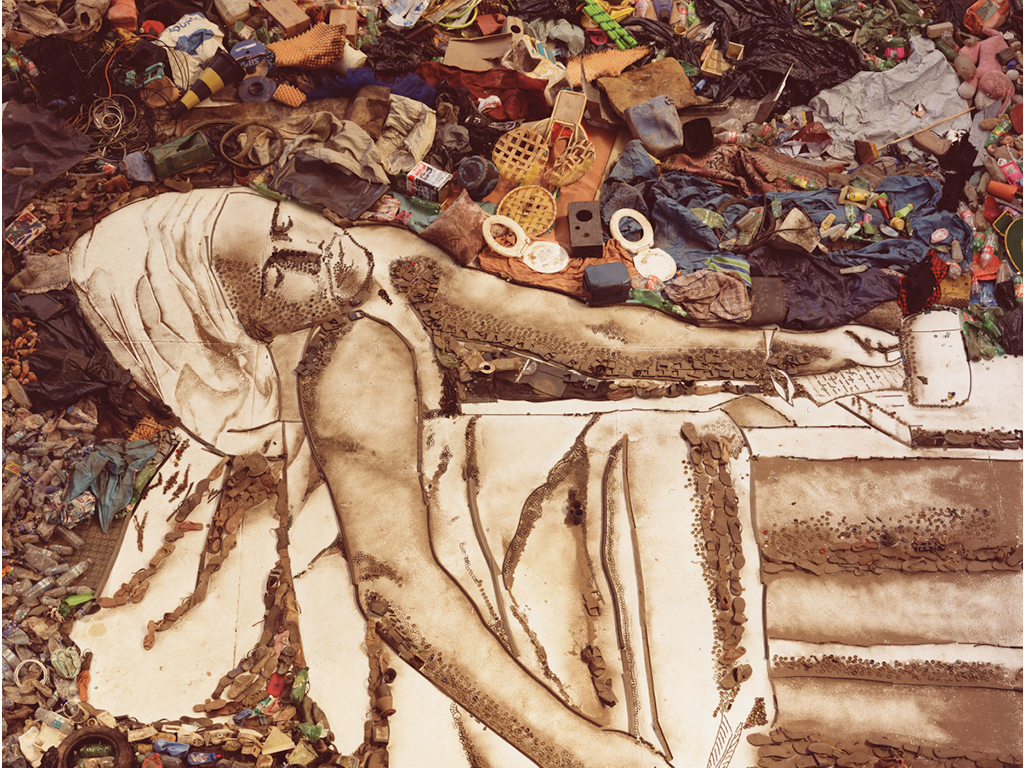 Vik Muniz, Marat (Sebastião) from Pictures of Garbage (2008)
Color. Theory. & (b/w)
December 2019 – 14 June 2020
This is the first installation of an ongoing investigation into the art and science of color. The subject of color theory allows us to look at wide range of ideas, from cognitive science to philosophy to literature, while marveling at the seductive and confounding ways in which artists wrestle with color. Here, we invite you to pay close attention to the artists' use of color relative to the medium. What is the relationship of color to material? Is color applied, embedded, reflected, atomized, projected, inferred? How do colors shift in the light? How do colors appear relative to their neighboring works? We invite you to take a closer look on the third floor galleries of the Museum, and then enjoy visiting our Conservatory to learn more about Color. Theory. & (b/w).ne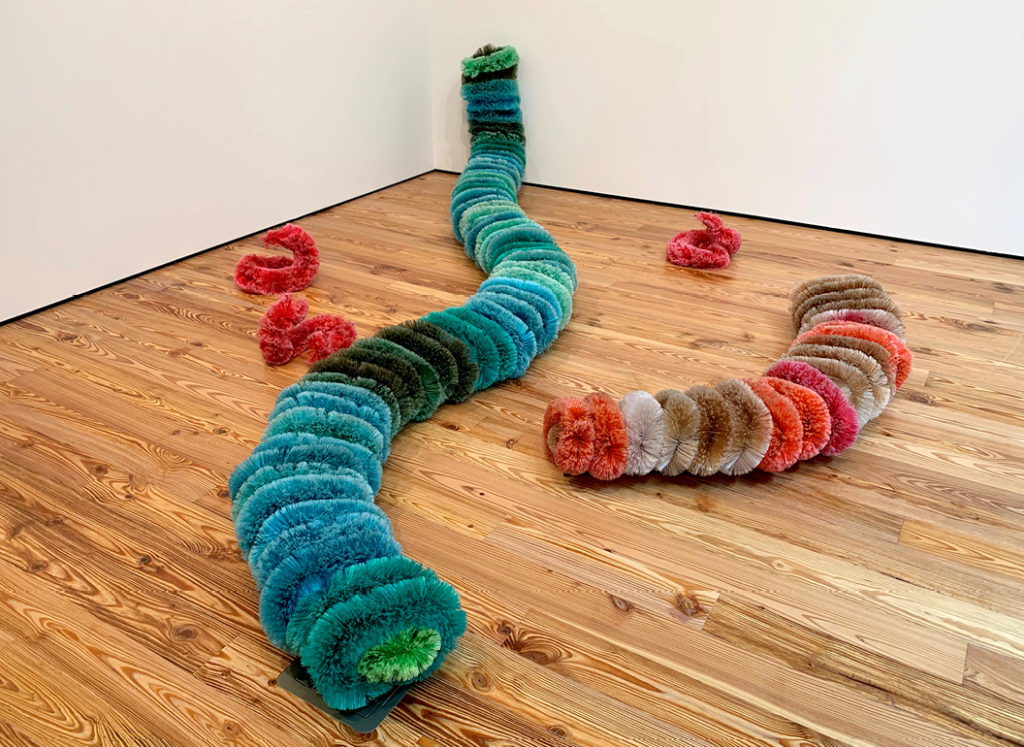 Pino Pascali, Bachi de setola (1968)
Marcy & Michael Klein Plaza
Zen Jail is an open-ended work in progress, adapting to its new home in Sarasota, after time in a park in Miami. The artist, JPW3, sourced a piece of wood from a tree that grew in Sarasota, and has turned it into a scope for the viewer/participant to meditate—or spy—on passers-by from the sunken bench seat. A tea plant is growing, that will be harvested and brewed in a series of interactive performative events that will riff on tea ceremonies around the world. Passion flower (passiflora) vines will eventually grow onto the framework of Zen Jail, providing a micro-ecosystem for butterflies (especially the endangered Monarch Danaus plexippus) and other pollinators to assist in habitat restoration. Zen Jail will evolve and grow as the site responds to the communities' engagement. It may be a meditation site, a site for music and performance, a site for reflection, a playspace—how would you like to play with Zen Jail?
JPW3, Zen Jail (2016/2019)
Héctor Esrawe and Ignacio Cadena
Los Trompos ("The Spinning Tops"), a large-scale, interactive installation designed by award-winning contemporary Mexican designers Héctor Esrawe and Ignacio Cadena. Inspired by the colorful design of a children's toy top, the vibrant colors on each are made from fabric that is woven in a traditional style by Mexican artisans. Functioning as both artwork and rotating seating spaces, each sculpture acts as a gathering place for relaxation, social interaction and a meaningful art experience.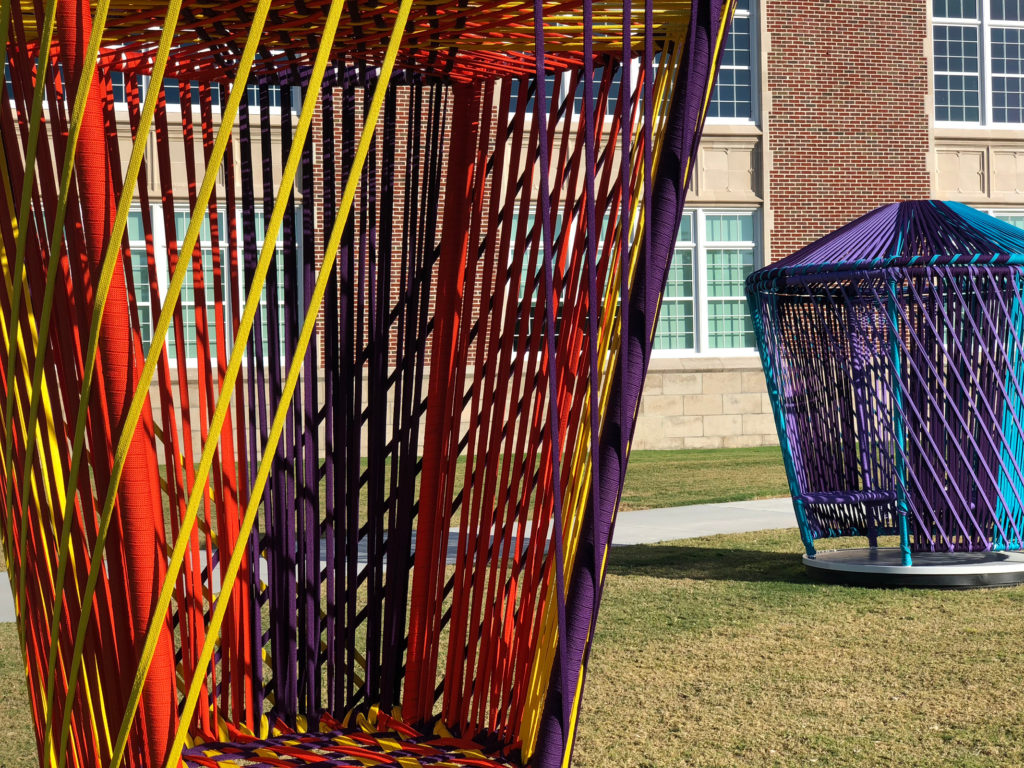 Esrawe + Cadena, Los Trompos (2015)
Marcy & Michael Klein Plaza
Celadon Landscape is constructed from ceramic discards collected from numerous kilns in Korea. These shards are the result of potters destroying finished ceramic vessels with any minor imperfections. Shin views the celadon fragments as a metaphor of the Korean diaspora, vibrant artifacts of the Korean people, their history and culture that are scattered all over the world to form new identities elsewhere. The term celadon also refers to the soft, pale grey-green color achieved by coating the clay with an iron-rich glaze that oxidizes during the heating process.
Jean Shin, Celadon Landscape (2015)
Odili Donald Odita is well known for his site-specific kaleidoscopic patterns of hard-edge, colorful shapes. Force Field bathes the Museum's loggia with colorful angular forms arranged in a rhythmic composition, with slivers of white acting as visual ellipses, much like phrasing in a jazz riff.
Odili Donald Odita, Force Field (2019-2020)